The world is home to many incredible destinations that have yet to be overrun by tourists.
Inspired by a Quora thread about the best unknown travel destinations, we've found 23 lesser-known gems around the globe.
From a stunning, hidden beach to one of the only places in the world where you can swim between two continents, here's your off-the-beaten-path bucket list.
​Tucked away under the surface, the Marieta Islands' "Hidden Beach" is a secret beach with crystal-clear waters that travellers can access either by swimming or kayaking through a long water tunnel.
Huacachina is a desert oasis located five hours south of Lima, Peru. The watering hole was once a popular getaway for the upper class escaping from nearby Ica, but now it has become a stop for backpackers who come here to enjoy activities like sand boarding and dune buggy rides.​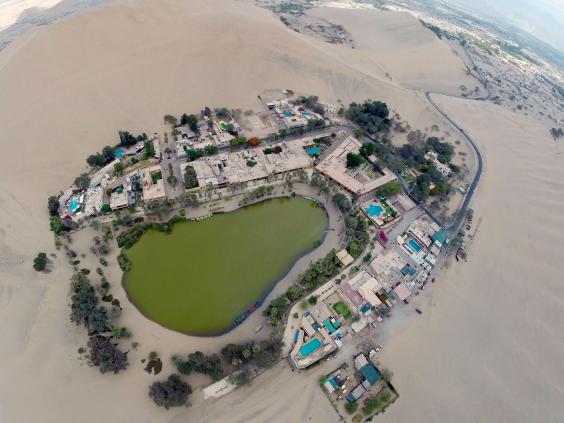 Those who visit Blagaj, a village in Bosnia and Herzegovina, are often in awe at the majestic sight of the Blagaj Tekke – a monastery built for the Dervish cults. Visitors are welcome to enjoy its wooden interiors or have a cold drink while overlooking the striking Buna river.
Australia's Lake Hillier maintains its vibrant pink colour year-round. The cause of the colour remains a mystery, though some say it could be the result of its high salt content combined with the presence of a pink bacteria species.
The Silfra fissure, located within Iceland's Thingvellir National Park, is one of the only places in the world where visitors can swim between two continents. Not only is it home to some of the world's clearest waters, but in some instances, the spaces are so narrow that swimmers can actually touch the continental plates of both North America and Europe.
In the 1600s, Isola Bella was transformed from what was once a barren rock in the middle of Lake Maggiore, Italy, to a blossoming garden and palace. Besides the palace, the area is also known for its stunning baroque gardens.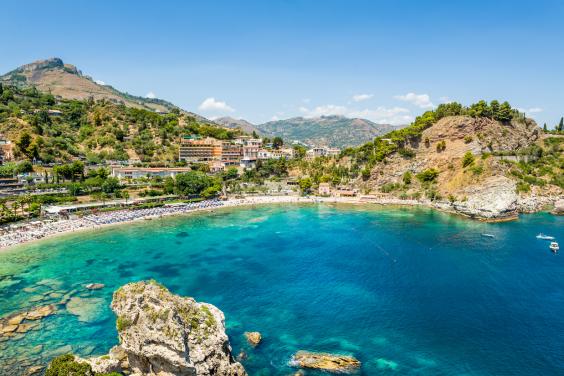 Malta's Popeye Village was originally created as a film set for the 1980 film Popeye before being repurposed into a theme park. The set was created using tree trunks brought in from Holland and around 2,000 gallons of paint. Today, visitors can enjoy boat rides, a winery, and water trampolines.
The Dongchuan Red Land is located in the town of Xintian in China and is known for its striking red hue. The soil in the area contains oxidized iron and minerals that produce the colour, and blooming plants throughout the year add to the colourful sight.
The Door to Hell, located in Derweze, Turkmenistan, is a giant hole of fire that was created when geologists accidentally tapped into a cavern teeming with natural gas. They burned off the hole, hoping that the fire would use all of the fuel that leaked and inevitably burn out, but it has continued burning to this day.
The island of Flores, located in the westernmost point of the Azores Archipelago off the coast of Portugal, gets its name from the bountiful wildflowers that surround the area. It also has natural hot springs and lagoons that make for a relaxing swim.
Giola is a natural pool located within the Astris region of Greece. Visitors will need to walk a trail to reach it, but once they do, they can enjoy a water reservoir with stunningly clear waters.​
Admire the stunning neo-Gothic architecture of Las Lajas Sanctuary, which crosses a gorge on the border between Colombia and Ecuador. Marvel at its landscape, set 150 feet above the river in between lush cliffs and waterfalls, before seeing its gorgeous interiors.
During its rainy season, the Lencois  Maranhenses National Park in Maranhao, Brazil, is an unforgettable sight. Thanks to the nearly 47 inches of rain it gets each year, pools form between its massive dunes, creating thousands of clear lagoons. The best time to visit is between July and September, when the pools are at their most full.
Guatemala's Semuc Champey is a paradise for those in search of turquoise waters hidden amidst a lush landscape. Though the ride there can be bumpy, once you arrive, you'll find a limestone bridge with a series of natural pools that provide cool waters ideal for swimming.
Soak your feet in the hot springs of Rotorua, a New Zealand city known for its geysers, thermal springs, and bubbling mud pools. It's nicknamed the "Sulphur City," and visitors can also partake in water sports in the region's many lakes.
Setenil de las Bodegas grew out of a network of caves located in the cliffs above the Rio Trejo in Spain. Today, its white houses have been built within this network, and some even have rock roofs. The area is also home to bars, restaurants, and spectacular food.​
Journey to Namaqualand, an arid region that stretches over some 600 miles in Namibia and South Africa. Every spring, the barren area suddenly fills with orange and white daisies, creating one of the most surreal landscapes in the world.
Discovered in 1836 by a hunter, France's Grotte de St Marcel d'Ardèche is home to almost 200,000 feet of known passageways. Here, travellers will find an underground network of water basins and breathtaking rock formations.
Rangiroa is a massive, ring-shaped atoll in French Polynesia that is known for oysters that produce black pearls. It also has some of the world's best scuba diving, and visitors can see dolphins, manta rays, green sea turtles, and hammerhead sharks.
The small town of Castellucio di Norcia sits near Norcia in Umbria, Italy. The town is famous for its brilliant display of flowers that bloom from late May to early July.
A small fishing village located about 200 miles west of Fortaleza in Brazil, Jericoacoara is the kind of place where the streets are paved with sand and beaches stretch for miles in every direction. The sleepy beach town attracts kite-surfers and windsurfers from around the world.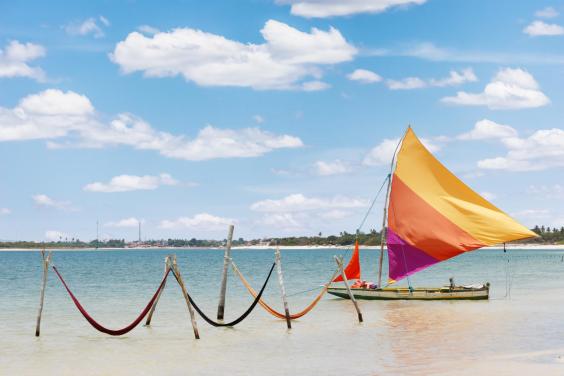 The Marble Caves, which are located on a peninsula bordering Lake General Carrera in Chile, are a breathtaking cave network where thousands of years of waves washing up against calcium carbonate have formed swirling marble patterns on cavern walls.
Pangong Tso is a lake that stretches over 60 miles from India to China, making it one of the largest lakes in Asia. With clear waters that reflect its mountainous surroundings beautifully, the lake is a striking sight for visitors to enjoy.